How reopening looks new and different around the world at the time of pandemic?
Most of us have been locked down for almost more than a month, as coronavirus prowls outside. After a month of lockdown home sick, cabin fever, boredom is on the peak but now world is coming back to normal. Also, many countries easing their lockdown restrictions.
As the restrictions are being slowly getting removed, countries are taking many protective measures to ensure everyone is protected from this pandemic.
There are many new creative and protective measures which some of you may not know like UV sterilizer on the escalator, hand sanitizing stations, glass partition in the gym to robots measuring body temperature.
Let's see how the reopening looks like around the world after a lockdown.....
1. #This UV Handrail Sterilizer On An Escalator In Hong Kong
2. #Danish Supermarket provides Hand-Washing Station which is Set Up Outside For Shoppers
3. #UV Sanitizer That Gym-Goers Can Use To Clean Their Phones
4. #Robot Deliver The Food In A Restaurant Of Beijing
5. #Gym In Hong Kong, Glass separates The Cardio Machines To Help Prevent Droplets From Spreading
6. #Chinese Student Returning To School, Someone First Sprays Disinfectant On Shoes, Then Sanitizes Hands, Spray Sterilizes His Clothes And Backpack And A Robot Scans His Eyes, Hands, And Throat
7. #Maison Saigon Placed Plush Pandas In The Restaurant So That People Have To Sit At A Safe Distance
8. #Bar In Germany Installed A Spit Guard Between Patrons And Employees
9. #Each Student Has A Clear Trifold Board Around Their Desk
10. #Masks But No Gloves, They Still Have The Folding Table And Stools If People Want To Sit Down. Yet, I've Only Seen One Group Of 2 Sitting This Week
11. #Every Other Seat At Starbucks Taped Off, Hong Kong
12. #The Lunch Room At Asus Computers In Taipei
13. #McDonald's In Beijing. Temperature Check And Name / Phone Registration Inside Door. All staff, Including At The Visible Open Kitchen, Wear Masks. Temperature Of Staff Listed On Takeout Items
14. ##In Kaohsiung, Taiwan, Din Tai Fung Makes Tables 5 Feet Apart. Staffs Wear Surgical Masks Whole Time To Prevent Aerosol Spreading
15. #Yardbird In Hong Kong - We Just Designed These Retrofitted (Hopefully Temporary) Panels For Their Booths
16. #Temperature Check & Sign-In At A Private Club
17. #Stand Behind The Yellow Line And 2 Metres Apart: Monday Commute
18. #Pews Are Taped Off To Enforce Social Distancing At A Church In Spain
19. #Hong Kong Restaurants Offer You A Bag To Store Your Mask While Eating
20. #Austrian Supermarket Taking Precautions
30. #You Have To Stand In Front Of The Thermal Monitor Before Getting Takeout At Mcdonald's
31. #Restaurant In Spain Just Posted Their Menu To Instagram
32. #Students At Yangzheng Primary School In Hangzhou Wear DIY "One-Meter Hats" On The First Day Of The New Semester.
33. #A customer enjoys a pastry outside a bar in Rome, as bars reopened but only for take away.
34. #Performers wearing protective face shields perform at the Erawan Shrine, Bangkok, Thailand.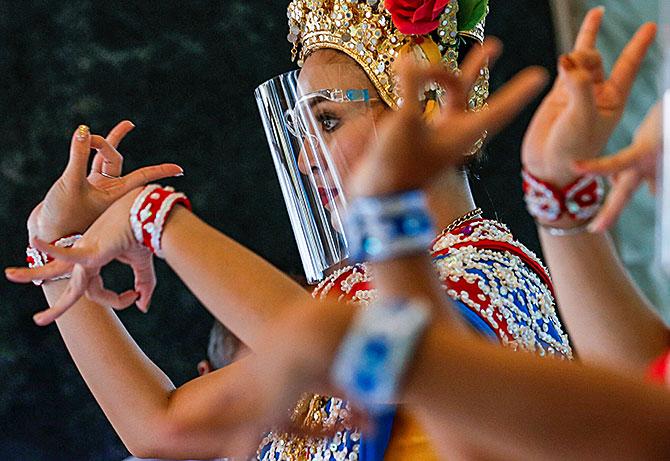 Soe Zeya Tun/Reuters
35. #People have lunch in a Taiwanese hot pot style restaurant that reopened after the easing of restrictions with the implementation of a plastic barrier and social distancing in Bangkok, Thailand.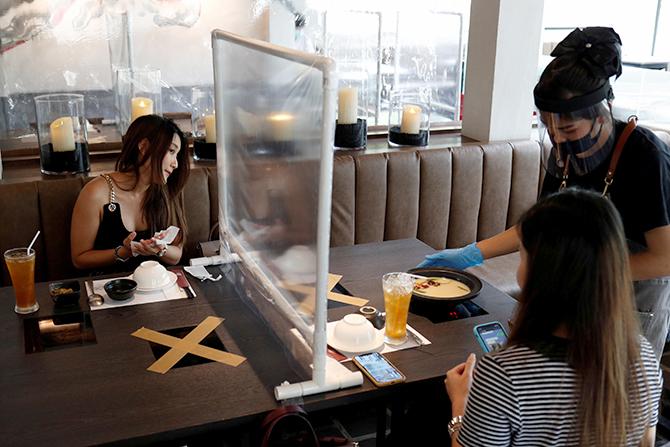 Jorge Silva/Reuters
36. #A woman wearing a face mask pours beer from a tap as Italy begins a staged end to a nationwide lockdown due to the spread of the coronavirus disease in Catania, Italy.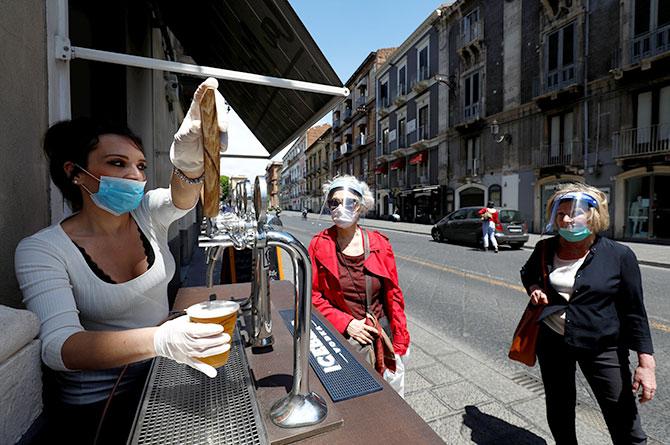 Antonio Parrinello/Reuters
37. #Wuhan shopping centers reopen for the first time after two-month lockdown
38. #Children checking their distancing at an elementary school in Logumkloster, Denmark, on Thursday. A day earlier, elementary schools opened after a month-long closure, drawing protests from some parents.
NYTimes
Thanks for reading
Don't forget to share and subscribe...